Giving Tuesday --> Giving Tools Day
#GivingTuesday is a global day dedicated to giving back. Charities, families, businesses, community centers, and students around the world will come together for one common purpose: to celebrate generosity and to give.
When you give to Midland County Habitat for Humanity, you're not just helping to build homes.  You're giving children safe neighborhoods, providing them stability and supporting good health.  The impact of affordable home ownership reaches far beyond having a place to live. It changes lives and communities.
Midland County Habitat for Humanity (MCHFH) has created our own spin on Giving Tuesday with Giving Tools Day! We have created a wish list on Amazon.com with the tools we need in order to continue building homes for families in our community. Help us build safe, affordable housing by purchasing an item from our wish list.
It's a simple idea. Just find a way for your family, your community, your company or your organization to come together to give something more. Then tell everyone you can about how you are giving. Join us and be a part of a global celebration of a new tradition of generosity.  Your gift gives a family in need, in Midland County, Strength, Stability and Self-Reliance through Shelter.
Join the Movement: #GivingTuesday
Follow us on social media to stay updated on Giving Tuesday events.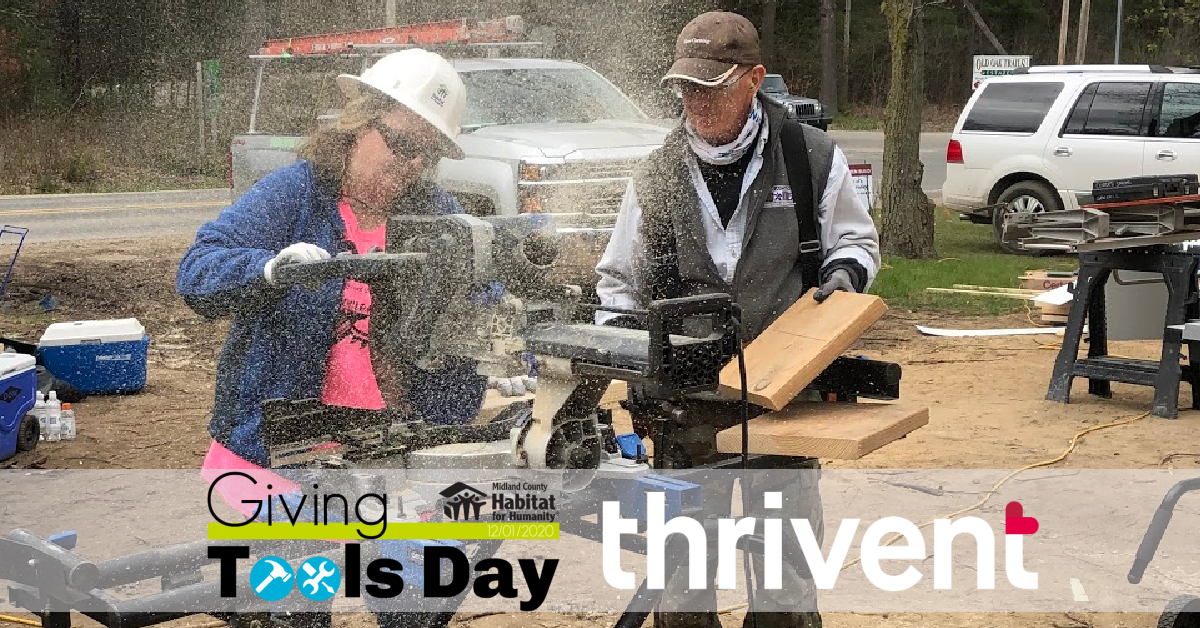 How to Participate on Giving Tools Day:
Visit our Amazon wish list here
Select which tool or tools you would like to purchase.
Once your cart is ready, proceed to checkout, pay for your items and have them shipped directly to Midland County Habitat For Humanity (MCHFH).
It really is that easy to support MCHFH with all the tools we need to continue to provide strength, stability and self-reliance through shelter in Midland County!
Interested in supporting our mission but not purchasing items from our Amazon wish list?
We encourage you to use the Amazon wish list as a guide, but would love if you could support local businesses in the community such as Ace Hardware and Sports, or Gill-Roy's Hardware.
Another way to support Giving Tools day is to purchase items and drop off at the Midland County Habitat For Humanity ReStore located at 1703 S. Saginaw Rd, Midland, MI (entrance in back of building).
Items we are always in need of:
Ace Hardware Gift Cards
Gill-Roy's Hardware Gift Cards
Lowe's Gift Cards
Home Depot Gift Cards
Cases of Bottled Water
Cases of Gatorade
Hammers
Yard Rakes
Shovels
Screwdrivers
Pliers
Socket Wrenches
Utility Knives
Another way to support Giving Tools Day is to donate tools you are no longer in need of.  Do you have tools around the house you are no longer using? Donate them to Giving Tools Day and we will utilize them to build safe, affordable housing in Midland County.