2019 Neighborhood Revitalization August 2nd - 9th, 2019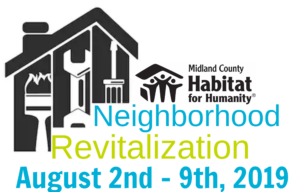 Neighborhood Revitalization
The Neighborhood Revitalization allows local Habitat for Humanity affiliates to serve more families by responding to community aspirations, with an expanded array of products, services, and partnerships. 
The mission of Neighborhood Revitalization is to empower residents to revive their own neighborhoods and to enhance their quality of life.  The Neighborhood Revitalization focuses on three main areas: Home Preservation, Critical Home Repair, and Weatherization.
How are homes selected for NR?
MCHFH works with the City of Midland to identify neighborhoods that fall within the income guidelines of 30% to 60% of the median income. Once we have the neighborhood identified we send a letter and a Neighborhood Revitalization application to the owner-occupied homes (we do not include rentals in the Neighborhood Revitalization program). The homeowners are asked to complete the application, identify what work needs to be done to their homes, and to provide information confirming the property taxes and homeowners insurance are up to date and paid. In addition, we explain to the families that they are expected to pay for the cost of materials and to participate in the revitalizing of their home.
When will NR take place this year?
The 2019 Neighborhood Revitalization will take place August 2nd - 9th, 2019 where we will revitalize up to 15 homes. Our scope of work will consist of painting and scraping, roof repair and replacement, driveway removal and replacement, gutter work, screen door replacement, landscaping, and various other projects.
This year, projects will take place in the neighborhoods surrounding Midland High School.  Here is a map displaying the targeted area that we will be revitalizing homes in.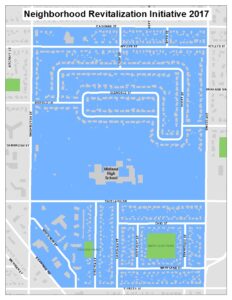 Sign-Up Now
Interested in Volunteering? Register online.